Gothenburg/Imst
Europe's glulam industries needed a complete solution for planning production with a seamless integration with SAP S/4HANA.
Johan Eriksson and colleagues at ForestX developed a module to the company's existing product Optinex. 
Optinex is a unique optimization planning tool that uses the full power of IBM Watson.
Since January 2021, the application has been in operation at Pfeifer group in Austria.
A large part of glulam planning in Sweden and around Europe takes place with excel sheets and simple computer support. The introduction of Optinex Glulam means a direct step into a digitalized way of working for the wood processing industries who choose the application.
– Optinex helps us to implement our business strategy with regard to the digitalization of production-related business processes in a consequent manner, says Stefan Hammerl, head of IT applications at Pfeifer.  
Johan Eriksson, solution architect, ForestX and Stefan Hammerl, head of IT applications, Pfeifer
– This is one of the most fun projects I have completed. We have worked closely with Pfeifer's planners and they are happy with the tool. We have been able to do exactly what the customer wanted, says Johan Eriksson, solution architect at ForestX.
OptiNex Glulam can be configured to take into account a number of parameters in the optimization of the planning of glulam production, for example:
Minimizing waste.

Machine utilization.

Optimized flows in the factory.

Available raw material.

Finishing operations. 
The scheduler can easily prioritize the various optimization parameters during use, depending on the current order mode.  
Unique optimization model for the customer
– We have developed a unique optimization solution where the model can be adapted to the customer's needs. The solution is integrated with other modules in Optinex. In this way, the solution becomes more complete, says Johan Eriksson, ForestX.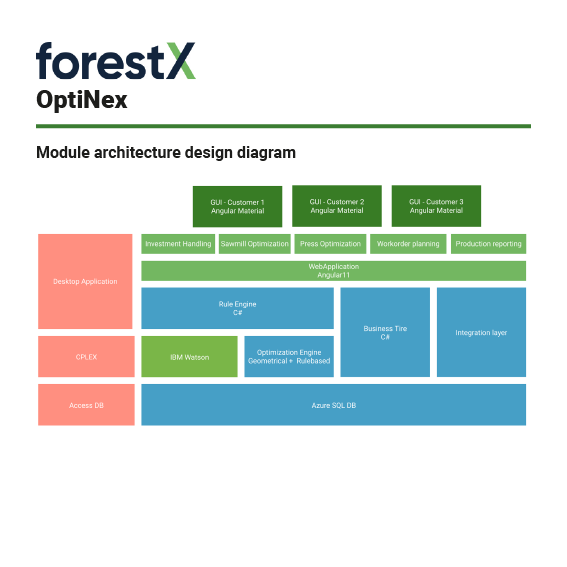 Optinex Glulam is a true SaaS (Software as a Service) solution. The optimization engine is upgraded to use the industry leading capabilities of IBM Watson cloud optimization. Optinex is seamlessly integrated with the business processes in SAP S/4-HANA, minimizing manual work and reaching a high level of security and availability.        
– Our event driven architecture is built from the ground up for maximum flexibility when integrating with customer solutions. Both regarding transmission methods and message formats, says Johan Eriksson, ForestX.
– With ForestX, we have found a partner who, on the one hand, understands our business model and, on the other hand, has transformed our – sometimes – very complex requirements into a scalable and user-friendly system with Optinex, says Stefan Hammerl, Pfeifer.
Everything started in the summer of 2020. The integration of Optinex Glulam was part of Pfeifer's SAP S/4HANA implementation project. The integration project started in August, in early autumn ForestX was able to demonstrate parts of the application and in December tests and adaptations were made. In January, the application began to be used in production.
During the implementation phase an agile project team with optimization specialist, architects and planners from Pfeifer was formed. The project scope included adaptations of customer specific UI, Integration and Optimization models tailoring. With a team well experienced from similar projects we could learn from each other and complete the goals and timeline.
In early March 2021, Johan Eriksson and his team were in a phase of "hyper care". In this phase, ForestX has extra resources in support for end users to ensure a smooth rollout.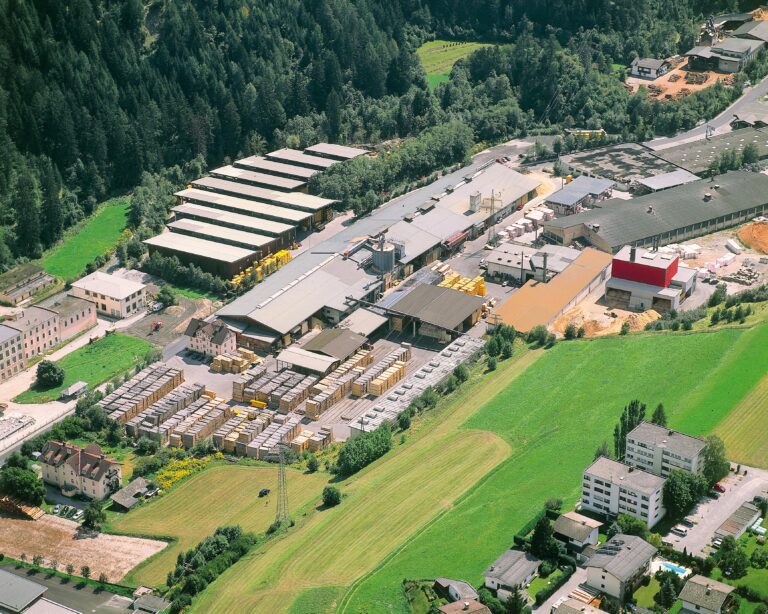 Digitized process
Other glulam manufacturing industries could become more digital in their production through Optinex Glulam; the module can be used both in industries with a high degree of customer adaptation and in those that manufacture standard dimensions.
Johan Eriksson and colleagues are also looking at how the application can be developed to also include cross laminated timber, CLT. The method is common in Europe, but new to the Nordic countries. Cross laminated timber is used, for example, for house building where wall elements are completed in the factory. Everything from doors and windows to electrical outlets are removed from the wall modules. And what good would a smart planning tool do in these processes?
Johan Eriksson looks into the future:
– Well, you do not have to lay the wood with the best quality in the spaces you know will be removed…  
More about Pfeifer 
Pfeifer is a leading company in the European wood industry. In their eight facilities in Austria, Germany and the Czech Republic Pfeifer practices their philosophy. Passion for timber – Passion for our work with conifer wood.
With Pfeifers more than 2,000 employees the group transforms the raw material timber in a precious range of products. A clearly structured range of goods builds the basis of the Pfeifer Group success. In over 90 countries, people trust in our products.
pfeifergroup.com
ForestX team on the project
Johan Eriksson
Lösningsarkitekt
Area of focus
Problem solving, streamlining and automation.
Oskar Danielsson
Lösningsarkitekt
Area of focus
Problem solving, streamlining and automation.
Prasad Patole
Senior Technical Lead
Area of focus
Senior System Dev. with 10+ years experience from Microsoft Technology, MS Azure development and Azure Devops.
Pooja Rakade
Lead Software Engineer
Area of focus
Senior System Dev. with 5+ years experience within Microsoft Technology. Pooja has worked with solutions for the forest industry in the past (4+ years).