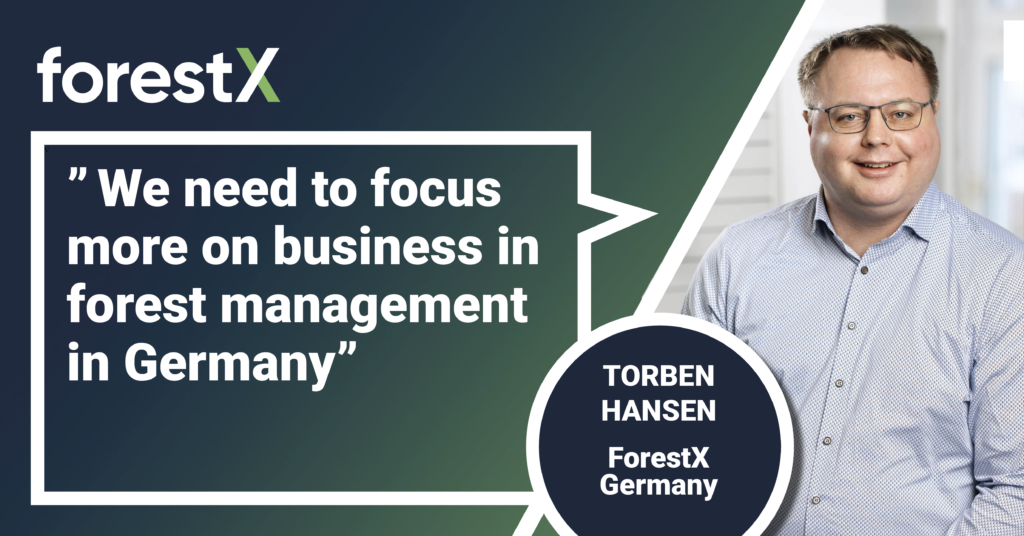 Gothenburg/Hamburg
ForestX expands further in Europe as Torben Hansen joins. He sees great opportunities for German forestry to draw inspiration from Scandinavia to better integrate forestry and wood industry.
During its five years, ForestX has grown both in Sweden and within Central Europe. The company offers digital solutions and business knowledge for the entire forest industry value chain, from forestry to finished product. Torben Hansen believes that the German and Central European market can benefit from the holistic perspective that ForestX represents.
– We need to see forestry and the wood industry as one. In Central Europe the two are not integrated in the same way as in Scandinavia. It becomes inefficient when forestry doesn't do what the market ultimately requires, just because of lack of information, says Torben Hansen.
– We need to focus more on business in forest management in Germany. We have a strong silvicultural perspective, yet we need to create good business processes as well.
Extensive forestry experience
Torben Hansen has extensive experience in forestry, both in Germany and internationally. He has previously worked for a state forestry company. After that, he worked as a consultant to private forest owners with forest valuation and forest management planning, as well as some software development. After that, he worked with acquisitions and assessments of forest properties in North America. The work involved everything from investment strategies to setting up a management team with local actors. He has also worked with a software company for business solutions that had forestry clients, among others.
Already during his studies, Torben Hansen established his first ties to the Swedish forestry industry. He studied his master's degree in Sweden at SLU.
– Swedish forestry is progressive. There's a strong international connection through Swedish companies operating all over the world. So they draw on a wide range of experience and expertise. Sweden is also a very nice country, and it is possible there to study in English!
These are experiences that are now being combined in Torben Hansen's assignment at ForestX.
– Forestry in many regions of the world needs more modern business processes and management practices. Good information flows are key. We will learn from others and from other regions. In Sweden you will find many state of the art practices, the country has strong forest and wood industries with many international connections. We should exchange knowledge, not reinvent the wheel locally all by ourselves.
Work smart and data-driven
The basis for improved working methods are technology and digital solutions that help the exchange of information.
– For me, it's about becoming data smart and to work data-driven. We have to use the latest management methods, says Hansen.
This way of working does not mean that local presence or human skills are unimportant.
– If you have a big organization and you don't manage information properly, you can't use the local experience and intuition. If you want to make overall decisions, you have to have the information and the data. It's not technology versus people, it's about integrating technology with people. Experience and local knowledge can be enhanced by technology, says Torben Hansen.
– There is not just one answer in forestry, you can do many things. It's all about the goals and what the stakeholders want to achieve.
Based in Hamburg, Torben Hansen is close to the teams and colleagues in Gothenburg.
Markus Mueller, HessenForst and Torben Hansen, ForestX.
Based in Hamburg, Torben Hansen is close to the teams and colleagues in Gothenburg.
Fall of 2023 has begun with an intensive week with many visits to interested forestry companies in Germany. There is great interest in ForestX's solutions and expertise.
– I am in Germany primarily for the German customers, but I see that the needs also exist in, for example, Poland and the Baltic States. ForestX already has Florian Peterlunger in Tyrol. I am also close to the team in Sweden, so I am by no means alone. I look forward to more people joining us in the future!
Solutions for the whole value chain
Torben Hansen is looking forward to continuing to work with ForestX, both for himself and for the forest industry as a whole.
– I want to improve the sector and do what is right for the industry, and in ForestX I see that I can achieve that. The company has so much knowledge about solutions for the whole value chain, not just individual pieces of it. For those companies that only work in one part, we can help connect them to the other parts. It becomes more efficient, and companies become more business-driven. Everyone can make more money, you take better care of your resources and you know what you're doing. This makes you a good steward of forest resources.
ForestX was founded in 2018 in Gothenburg, Sweden. The founders and employees have extensive experience from forestry and sawmill industry. In the fall of 2023, the company has around 50 employees.
CEO Carl Barck is a trained forester and has extensive experience from both the Swedish and international forest industry. One third of ForestX's employees have a forestry education. Together with experienced solution architects and developers, there is extensive knowledge of the needs of the forest industry and digital solutions.
ForestX has completed and has ongoing projects with Rubner and Pfeifer group in Austria, among others.
ForestX collaborates with several world-leading product suppliers such as Trimble Forestry and Remsoft. ForestX also develops its own product Optinex, which is a planning and optimization tool for sawmills.
ForestX has its own team of developers in Pune, India, to ensure high competence and deliveries.