Stockholm/Gothenburg
Sven Lundmark joined ForestX with 40 years of experience from the Swedish and international IT industry. He is now part of the company's new venture ForestXChange.
The combination of long IT experience and through several assignments for the large Swedish forest companies makes the career step to ForestX natural. To be able to work towards a specific industry and get to go deep into it attracted Sven Lundmark.
– The forest is important for Sweden. It is one of the country's most important business sectors and an industry for the future. At ForestX, I get the opportunity to work on a small scale and work closely with those who make the decisions. And I knew Christer from before!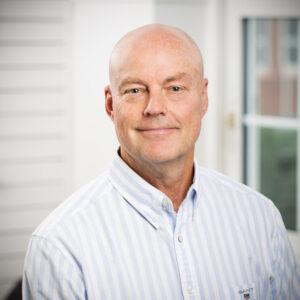 Creating Stockholm office
Sven Lundmark is based in Stockholm and will be responsible for ForestX's new office there. There are already 6 people connected to Stockholm.
– The large forest companies have much of their operations in the north and several have their headquarters in Stockholm. We want to be closer to them.
With ForestX headquarters in Gothenburg, however, Sven expects to regularly turn west to work close to his colleagues there.
ForestXChange for change management
Sven Lundmark works with ForestX's venture in strategy and change management; ForestXChange. The basis for ForestXChange is the need many – maybe all – companies have when it comes to implementing large IT projects and the enormous journey of change at various levels it entails. Add to that the forest industry's specific requirements for real industry knowledge that ForestX possesses.
Sven Lundmark emphasizes in particular the customer's task and position through extensive change work.
– The customer must be able to match up in terms of knowledge, and be strong in their role. We and my team make this journey of change all the time and can provide a lot of support.
Tips for successful IT projects
The challenges through an IT project can be many. Here are some of Sven Lundmark's points of reference for a successful IT project and change work.
Do not rush into the project. Spend time on the preparatory work!
See the suppliers as an asset, have a dialogue with potential suppliers.
The important key person in the projects are often also important in the daily work. Make sure they are available for change work.
The vast majority of the project's utility values ​​are in the continued management. Plan for it!
We have developed a best practice, and this is what we at ForestXChange apply in our customer projects.
Digitized forest industry in the future
With the pandemic, 2020 was a dizzying and shaky year for many industries. What does Sven Lundmark then predict for the forest industry 2021 and onwards from his standpoint?
– The forest industry has good profitability and has the ability to invest in technology. We are good in Sweden in forest management and we have a net production in the country. The combination of access to good raw materials, economics, investments and research makes the forest industry a long-term winner.
– Digitization will mean a lot. We can automate and have digital support for the work. It is also interesting to develop how to use AI and machine learning in existing processes. It is an exciting technology to use the data you have and find smart and better connections.
Areas where ForestXChange can support its customers
Manage and motivate large and extensive investments.
Create basic conditions for the customer to successfully complete their project.
Ensure the customer's impact goals and vision for the investment in a new IT solution.
Reduce the risk of exeeded budget and staggered schedules.
Ensure a functioning efficient management and further development of the solution.
ForestXChange offers qualified individuals and teams who work according to well-proven working methods. It can be for a shorter or longer period of time and is available before the project until launching and further management.
About Sven Lundmark
Work: Project manager / change manager at ForestX and ForestXChange.
Favorite tree: Apple trees! We have seven or eight apple trees at home in Nacka, Sweden. It is a fantastic tree that responds to care and love. I do some carpentry and use the wood for work such as knife handles, bathing stools and cutting boards. The wood is hard with great contrasts between light and red areas.
Best nature experience: Hike in the Dolomites! We have an apartment there, 1000 meters above sea level. There is something called Via Ferrata. It is a system with fixed joints. Hiking for eight hours and then climb some peaks is an experience!
Most used app: Omni, a news application. I read about economics, news development, environmental issues… I am a generally curious person.
Three bookmarks in the browser:
Telldus – Controls heat and humidity in homes in Stockholm, Dalarna, Sweden, and Italy.
Linkedin – Keep in touch with all my past and present colleagues.
Instagram – I like to share my life for family, relatives and childhood friends.